LAST UPDATED: July 4, 2014
Everything has been moved to StorEnvy & eCrater. Although I will no longer update this page, you are welcome to leave comments here in order to contact me or work out deals.

http://skyrend.storenvy.com/
Books are listed here in sets/lots. Use the left sidebar or top navigation to browse products.

http://skyrend.ecrater.com/category.php
The original store. Still updated. Has most books listed for individual purchase.

http://dj.soul-refrain.net/
My entire doujinshi collection. May sell what is not listed in the stores.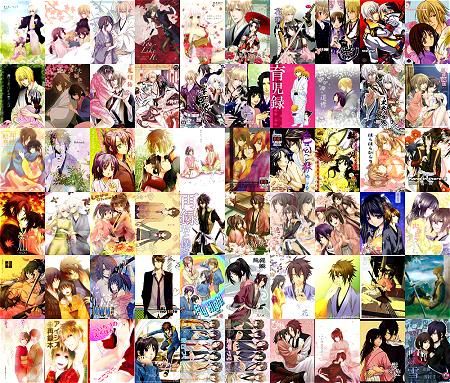 There may be a small price discrepancy between LJ and eCrater. This is to accommodate for the Paypal fee and foreign credit card transactions.



★ BUYING INFO ★ ***PLEASE READ***

• First to pay has priority.
• Holds will be accepted depending on my mood and item popularity. I'm a laid back and understanding person so long as you don't jerk me around.
• Items will only be held for a maximum of 3 days unless buyer submits a deposit or we've had prior transactions.
• Let me know if you want an item. Deals often fall through & people disappear.
• Price offers are accepted but please be reasonable.
• More on prices here: http://dj.soul-refrain.net/sale.html#prices
• Latest additions to the sales post are indicated with NEW.
• RED PRICES denote books that were hesitantly considered for sale. Please submit your best offer. Keep in mind these are books from my personal collection and each book has a varying degree of sale priority.
• The items are available until they are marked sold.
• Feedback ratings: feedback post, eBay profile, eCrater feedback, and MUA. For reference, past LJ sales are here.
★ PAYMENT and SHIPPING ★
• Paypal, POSTAL money order (not bank), and USD cash accepted.
• No order cancellations once the item is sent out. No refunds or returns. All sales are final.
• Shipping cost is about $5 in the USA. International is around $8 (varies).
• Prices listed do not include shipping (unless stated). Combined shipping available.
• Customers from "high-risk" shipping countries (i.e. Italy, Brazil, Nigeria, etc) may require: 1) gift payment via Paypal; 2) extra shipping cost to cover insurance
• USA RESIDENTS: Items ship within 2-5 business days after receiving cleared payment.
• INTERNATIONAL RESIDENTS: Items ship within 5-10 business days after receiving cleared payment. These packages must be brought to the post office.
★ HOW TO ORDER ★
• Please send inquiries, requests, and payments to
• In a comment or e-mail, please leave the titles of the doujinshi you wish to purchase and your country.
• You may also visit the eCrater store to instantly purchase items.
• EBAY: If desired, it is possible for me to list any of these books on eBay. However, there will be an extra $3-$5 increase in price to cover the high fees.
★ TRADING/WISHLIST INFO ★

Doujinshi wishlist and collection reference. Might be interested in either buying or trading. Willing to pay big bucks for Hibari/Chrome doujinshi, around $20-$60.